The Francis Ermatinger House is the oldest house in Oregon City and the third oldest house in the state of Oregon. In the photo below (a Lorenzo Loran photo that was the first ever taken of Oregon City) the house can be seen.

Flat-roofed Ermatinger House circled in this 1857 Oregon City photo (Oregon State Historic Preservation Office)
Francis Ermatinger was born in Portugal in 1798. He began working for the Hudson's Bay Company in 1818, and came to the Oregon Territory in 1825 to work for John McLoughlin at Fort Vancouver. In 1841 Francis married Catherine Sinclair, who was Mrs. McLoughlin's granddaughter.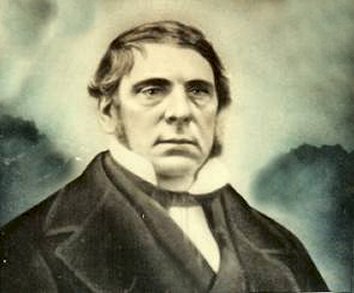 Francis Ermatinger (Oregon Pioneers)
After Ermatinger was promoted to chief trader he managed the Hudson's Bay Company store in Oregon City from 1844 to 1845. Dr.McLoughlin deeded land to Ermatinger in 1844, who had a house built there in 1845. The house was built in the Federal Style with a flat tin roof. He only lived there a short time, though, since he was transferred back to England in 1846. (He died in Ontario, Canada in 1858.)

The Ermatinger House at its original location in 1910, before it was moved to Center Street (Oregon State Historic Preservation Office)
It was in this house that Portland got its name, or so the story goes. In 1845 during a dinner party at the house Francis Pettygrove and Asa Lovejoy disagreed about what to call the town that was going to be built on their land claim downstream from Oregon City. Pettygrove wanted it to be called Portland after his hometown in Maine. Lovejoy wanted it to be called Boston, after HIS hometown. Pettygrove won two of the three tosses.

Francis Pettygrove and Asa Lovejoy (Find a Grave)
The riverfront portion of Oregon City had become a busy downtown area, so in 1910 the house was moved from its original location on McLoughlin Blvd to Center Street. The house was listed on the National Register of Historic Places in 1977, then purchased by Ruth McBride Powers in 1986.

The Ermatinger House at its Center Street location (Oregon State Historic Preservation Office)
She had the house moved to a lot on 6th Street and the house was restored and converted into a museum. A unique feature of the house is its original flat tin roof which is still intact under the present hipped roof that was added sometime before the turn of the century.
The museum was closed to the public in November 2010 because of structural problems and in May 2011 the Historic Preservation League of Oregon named the house as one of the state's most endangered buildings. In February 2012 Oregon City commissioners approved a $65,000 contract with Architectural Resources Group to prepare plans for rehabilitation of the house.

The Ermatinger House in 2012

The Ermatinger House in 2012
Location of the Francis Ermatinger House:

View Larger Map